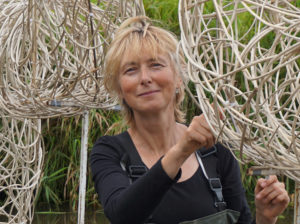 BIO
I studied art at the Vrije Academie voor Beeldende Kunst in The Hague.
I work as an independent artist.
PROFESSIONAL MEMBERSHIPS
Sculpture Network
Arti et Amicitiae
Nederlandse Kring van Beeldhouwers (Dutch Sculptor Association)
ZAC – Zest Artist Collective
LINKS
youtube.com/user/artkarinvandermolen1/videos
zestartistcollective.weebly.com
rerunproducties.nl
patvanboeckel.nl
EXHIBITIONS
2022
Magenta, Landscape Design Fest, Kaunas, Lithuania
Flatta – Landart, Boujmil, Morocco
Espacio Arte Vaca, Viniegra de Abajo, Spain
Dialogue with Clouds, La Ermita de la Virgen de Lomos de Orios, Villoslada, Spain
Dak'art Biennale OFF, with Zest Artist Collective, Senegal
Open Stal, Olderbekoop, The Netherlands
Kunsttage Winningen, Germany
Vervlochten, landart route Noordwolde, TheNetherlands
2021
Kunstpfade, Landart Kirrweiler, Germany
Landart Biennial Andorra, Engolasters, Andorra
Respir'arte, Bolzano, Italy
Stil het Tij, IJsselbiennale/Dat Bolwerck, Zutphen, The Netherlands
Dichter op het Water- landart, Museum Schokland, The Netherlands
Textiel Festival Twente, Enschede, The Netherlands
Neue Faden, Landart route Neukirchen-Vluyn, Germany
Permanent public art route, Lonneker, The Netherlands
Wonderkamers, Nijeholtwolde, The Netherlands
2020
Himalaya Sculpture Park, Yorkshire, UK
eb, Landart, Museum Schokland, The Netherlands
RAM, Light Art Festival, Ens, The Netherlands
2019
Abidjan Green Art, Ivory Coast
Sculpture by the Sea, Sydney, Australia
Landart Fest, Janow Podlaski, Poland
Darmstadter Secezion, Darmstadt, Germany
Landart Biennial, Andorra
Groundspeak, landart and poetry, Schokland, The Netherlands
2018
Green Body, Sonahmo Gallery, South-Korea
Kamiyama AIR, Japan
Pulchri Studio, The Hague, The Netherlands
Cultural Capital of Europe, Leeuwarden, The Netherlands
Sense of Place, Leeuwarden, The Netherlands
L'Art par la Nature, Grande Synthe, France
Echigo Tsumari Triennial, Niigata, Japan
Art in Bosco, Capriasca, Switzerland
Huis als Museum, Amersfoort, The Netherlands
Arti et Amicitiae, Amsterdam, The Netherlands
2017
X-Sites, Gothenburg, Sweden
Gallery Dat Bolwerck, Zutphen, The Netherlands
Artroute IJhorst (Grensloos Kunst Verkennen), The Netherlands
Artborne, Oosterbeek, The Netherlands
Tsukuba Art Center, Tsukuba, Japan
The Story of Space, Panjim, India
MOG Museum of Contemporary Art, Goa, India
2016
Museum of Contemporary Art, Tehran, Iran
International Forest Art, Darmstadt, Germany
Land art sur le Champ, Mont Saint Hilaire, Canada
Snijpunt/Kunstmaand Ameland, The Netherlands
Oranienburg 800, Oranienburg, Germany
Wolubilis, Brussels, Belgium
MOG Museum of Contemporary Art Goa, India
Humus Park, Polcenigo, Italy
De Havixhorst, Meppel, Netherlands
Backfire, Zaandam, Netherlands
Global Village, Landshut, Germany/Brondby, Denmark
2015
Yu Lei Mountain Park, Chengdu, China
Museum Schokland, Netherlands
Domaine du Rayol, Rayol du Canadel, France,
Sentier des Arts, Ile de Re, France
Museum Lolland Falster, Pederstrup, Denmark
Liselund Slotpark, Mon, Denmark
2014
Landgoed Keukenhof, Lisse, Netherlands
Sentier des Arts, Royan, France
Landart Roztozcse, Lublin, Poland
Natuurkunstpark Lelystad, Netherlands
Museum Lolland Falster, Denmark
Environmental art in Odense, Denmark
2013
Setouchi Triennale, Japan
In-Between, Gaasbeek/Brussels, Belgium
Environmental Art Festival Scotland
Aquamediale, Zaue, Germany
Fete de May, Gesves, Belgium
Lae&Leben, Reventlow Park, Horslunde, Denmark
Gallery De Apotheek, Zutphen, Netherlands
Gallery Bruelle, Steenwijk, Netherlands
Provinciehuis, Lelystad, Netherlands
2012
Sculpture by the Sea, Sydney, Australia
Ostrale, Dresden, Germany
Kiev Sculpture Project, Kiev, Ukrain
Natuurkunstpark, Lelystad, Netherlands
2011
Couleurs d'automne, Annemasse, France
Nieuw Verleden, Kraggenburg, Netherlands
Gallery Christiane Klein, Darmstadt, Germany
Atelier Heemtuin, Leiderdorp, Netherlands
Sculpture by the Sea, Aarhus, Denmark
Kunst trifft Kohl, Mùnster, Germany
Grenzkunstroute. Aachen, Germany
2010
Geumgang Nature Art Biennale, Gonju, South Korea
Landart Mongolia 360, Gazzrii , Mongolia
Bathmen Biënnale, The Netherlands
Kunstspoor, Bippen-Hasetal, Germany
Gallery Fort aan de Drecht, Uithoorn, Netherlands
Galerie Beukenhof, Kortrijk, Belgium
Gallery Het Gemaal, Echtenerbrug, Netherlands
2009
Museum of Marine Biology and Aquarium, Huenchuen, Taiwan
I Park Environmental art Biennale, East Haddam, USA
Parcours des Fees, Barcelonnette, France
Zilver, Zeewolde, The Netherlands
Nieuw Verleden, Lelystad, Netherlands
2008
KAIR, Kamiyama, Japan
Kielzog, Marknesse, Netherlands
Nature Park, Lelystad, the Netherlands
Landart Lolland, Denmark
2007
Guandu Nature Park, Taipei, Taiwan
Landscape of the Year, Tulcea, Rumania
Aquamediale, Spreewald, Germany
Open Stal, Oldeberkoop, Netherlands
Nature Park, Lelystad, Netherlands
Gallery Steenwijk, The Netherlands
Gallery Groeneveld, Almelo, The Netherlands
Museum Nagele, The Netherlands
2006
Sculpture park Dehullu, Gees, The Netherlands
Park Lingezeegen, Arnhem, Netherlands
Gallery De Rode Jas, Hattem, Netherlands
Sidac Studio, Leiden, Netherlands
2005
Kunstbroedplaats, National Park, Ossenzijl, Netherlands
Nature Park Lelystad, Netherlands
A3 Gallery Moscow, Russia
Belinskovo Gallery, Jekatrinburg, Russia
Gallery Okno, Chelyabinsk, Russia
CURATING ACTIVITIES
2017 Know Nature, Museum of Goa, Pilerne, India
2016 Snijpunt, Land art on Ameland, Netherlands
2016 Schokland Scratch, artist in residency, Museum Schokland, Netherlands
2012 Drift, international environmental art project, Marknesse, Netherlands
2010 Out of Space, international environmental art project, Munnekeburen, Netherlands
2008 Kielzog, international environmental art project, Kraggenburg, Netherlands
2007 Fort Europa, exhibition, Corrosia, Almere, Netherlands
2005 Kunstbroedplaats, environmental art project, Ossenzijl, Netherlands
ARTIST STATEMENT
In the last decade I have increasingly focused on environmental/site-specific art, objects and installations. I take time to research and experience the location where the artwork is going to be made. I try to find the 'entrance' to that place, in order to formulate an artistic answer to it. The central theme of my work is the human relationship with nature. Originally I come from the city and live in an urban, digital, global world. I have been searching for the link with nature since I became aware of the necessity. By using natural materials for my site-specific art work, I try to seduce myself and others to get closer to, or even 'enter' nature. Working with the materials that nature offers seemed to me to be the way to deepen my relationship with nature in my art.
With my environmental art work I relate to the contemporary challenges that we face. Nature often mirrors the consequenses of human activities in the environment. In my vision environmental art can be deployed to encourage, amplify and intensify our imagination to develop a healthy relationship with our surroundings.